Last weekend we bought the Elfa hardware from The Container Store and installed it. It took me most of the week to sort through all my books and magazines. I then took my time loading up my new bookshelves in a way that made sense instead of just cramming them on there. I actually "found" stuff I forgot I had!
This shot is of the left side of the room, its all my gardening, wildlife and nature related books. All of my gardening magazines are now in magazine boxes and are labeled!
The right side is all my craft related books and I sure do have a bunch of them! I also have loads of stamping magazines. I tried to sell those but no takers, so I guess I have to get more magazine boxes for them and just hang on to them.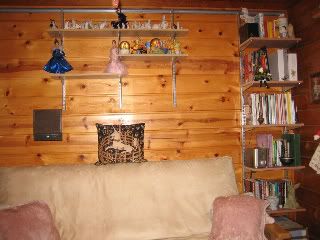 In the middle is my unicorn collection and my Winnie the Pooh stuff, as well as two collectible Barbies I own. I like that I have more room for another shelf or so if I want later on.
This is my worktable side, yikes! Yes I am now and have been out of creation commission for the last couple of weeks. My darling husband decided to rearrange his office and in doing so I inherited a bunch of stuff that got piled on my table. Then, with the removal and installation of the book shelves I got more stuff dumped on there. Well when the chance to go ahead and install the hardware came I figured I would go ahead and take it. Thus the naked wall, what you don't see is all my "stuff" piled all over my closet! Randy says he will stop at Lowes and get a few more shelves and we will have to go back to The Container Store to get a few more brackets. Then
hopefully
I will get back to being creative!