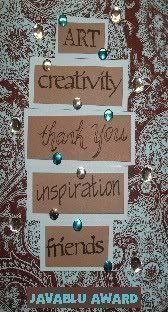 My darling friend Bridgett sent me this award, thanks so much
Bridgett
! I am so happy to know what my humble little blog inspires her, heck I am happy to know that someone actually reads it!
So I have to pick five friends blogs that inspire me!
The first is
Lisa
, I love her style and I love her blog because she mixes life and art!
Next up is
Valerie,
her stuff is always unique and you never know what you will find there!
Leslie
mixes my two favorite passions stamping and gardening and I so love the peeks into her garden as much as her creations!
Now
Barb
is something else, her style and sense of humor make checking her blog an adventure for sure!
Finally
Angela
who creativity and style no cease to amaze me!
Thanks ladies for being such an inspiration to all of us!
1. THE WINNER CAN PUT THE LOGO ON THEIR BLOG.
2. LINK THE PERSON YOU RECEIVED THE AWARD FROM.
3. NOMINATE AT LEAST 5 OTHER BLOGS.
4. BEFORE LISTING THE NOMINEES GIVE A BRIEF REASON WHY YOU CHOSE THEM.
5. PUT THEIR LINK ON YOUR BLOGS
6. LEAVE A MESSAGE ON THEIR BLOGS